Osteopathy Services
Tish Reid MA (Oxon, Cantab) BOst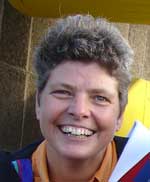 Tish qualified as an osteopath from the British School of Osteopathy - the oldest osteopathic school in the UK. She brings with her a background involving high level sports participation, an office based career, leisure industry experience, transport, farming and building occupations. This gives her an appreciation of what can be demanded of the body in various situations, which can give valuable insight into positive treatment plans.
Appointments can be made with Tish at either: the Redruth Osteopathic Clinic in Redruth - phone number 01209 315701, all day Wednesday or Thursday afternoons 3pm til late,
or at Glenview phone number 01736 851331 all day Tuesdays, or on Thursday mornings.
Tish can offer a mobile osteopathic service, especially useful if you cannot travel easily. Get in touch for availability.
Email osteopath@movementislife.co.uk
Location Glenview is approximately 1 mile outside Leedstown, off the B3302 Helston to Hayle road. The Redruth Osteopathic Clinic is at 6 Clinton Road, Redruth.